What is Real Estate Crowdfunding?
Learn how to build wealth and earn passive income in real estate while someone else does all the work.
7 Ways You Can Invest in Commercial Real Estate Online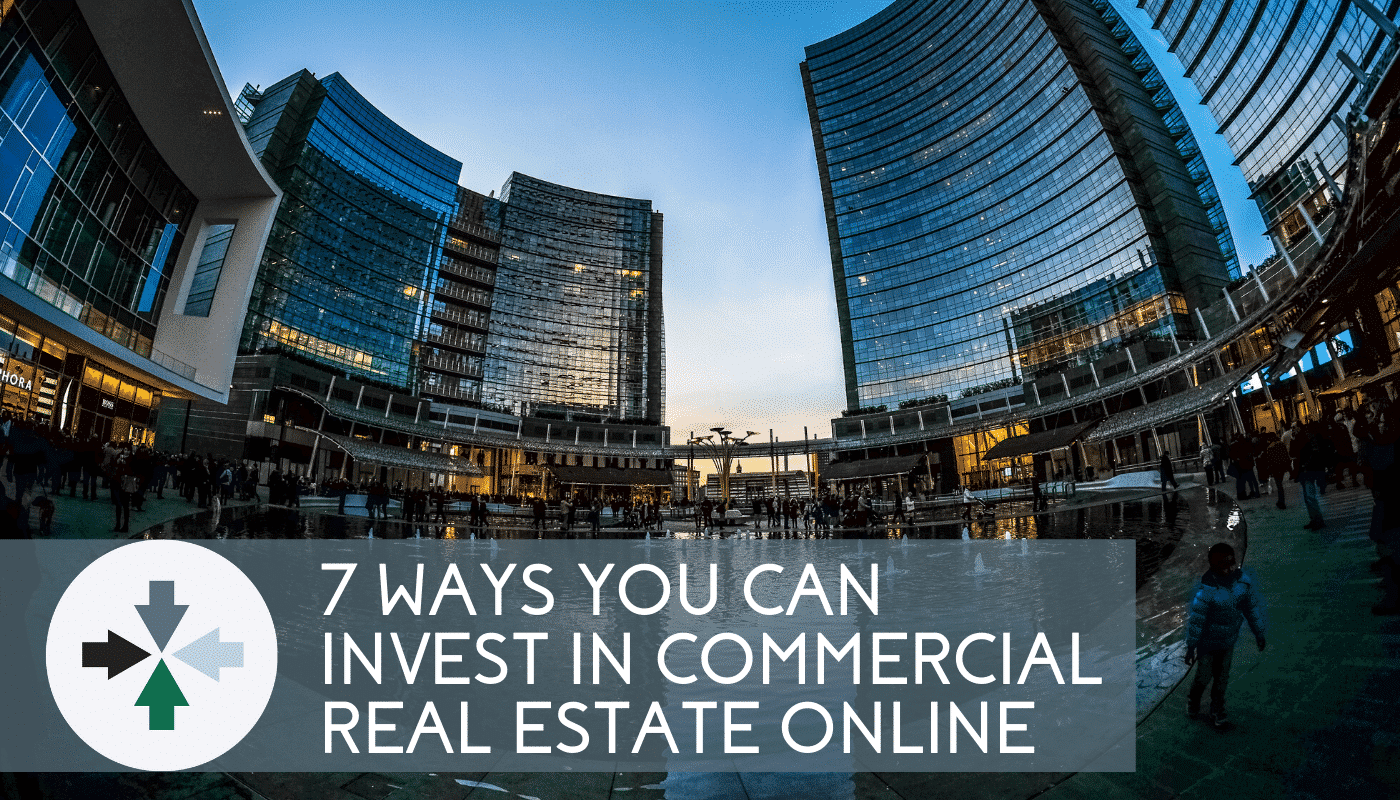 According to the research site, Statista, commercial real estate development in the United States has been steadily growing since 2010. Meanwhile, vacancy rates for these properties have been declining. What that tells us is there is continued demand for commercial property, and that new space is being absorbed as it gets built.
There was once a time where the only way to invest in any kind of property was by purchasing it directly or through closed private groups. Nowadays, the Internet has made it possible for anyone to invest in commercial property online. When it comes to such real estate investing, by making a passive investment online you have several advantages over traditional methods – perhaps the most significant of which is that you don't have to deal with tenants or carry out many of the duties a landlord must undertake.
Why You Should Invest In Commercial Real Estate
When most people think of buying commercial property, they naturally think of multifamily apartment buildings or office space. While these are two of the most popular forms of commercial property to invest in, they are not the only assets to consider. Indeed, the commercial real estate sector is much broader than that. Commercial property also includes retail centers, warehouses, industrial properties, "mixed use" buildings, hotels, land deals and more.
The broad nature of commercial real estate is one of the reasons why it appeals to so many investors.
Here are a few other reasons why investors like commercial real estate:
There is very little correlation to the broader equities markets. In other words, the stock market could plummet, but commercial properties may otherwise hold their values. This makes commercial real estate a great way for investors to diversify their portfolios when trying to mitigate risk and to incorporate a measure of stability during times of volatility into their portfolios.

Commercial real estate offers both income and appreciation potential. For those looking to generate short-term cash flow, there are all kinds of deals that produce 5-15% (or more) in annual returns—typically in the form of cash flow distributions. Those who have a longer-term horizon will also usually benefit from the property's appreciation over time.

Commercial real estate can be very hands-off in nature. Most people opt to invest as limited partners, either in a syndication or a fund. This leaves the day-to-day management of the property to the project sponsor, who is usually an adept commercial real estate professional. This allows investors to "set it and forget it" – assuming they have done their due diligence on the sponsor and the deal in advance.
So, if you've got some money you'd like to invest in commercial property, how can you do so without buying a physical property? Take a look at the following ideas to give you some inspiration:
1. Commercial property real estate ETFs
An ETF is short for an exchange-traded fund. In a nutshell, this is where a variety of stocks or bonds (or a mixture of the two) become merged as a single fund. ETFs are very much like index and mutual funds in two ways. First, they have a broad diversification of stocks and bonds, and second, they are relatively low-cost investment vehicles.
What Are Investment Vehicles?
An investment vehicle is any mechanism by which a person is able to invest in a product that generates a positive return. The most common forms of investment vehicles are stocks, bonds, options and futures. There are other forms of investment vehicles, though, including commercial real estate, ETFs (exchange traded funds) and REITs (real estate investment trusts), each of which we describe in more detail below.
Investing in a commercial property real estate ETF can be a smart way to make your money work for you. It is ahighly liquid way to invest in new commercial construction projects, for example. When you invest your money, it should be noted that you aren't investing in specific projects. Rather, you are investing in the equity of real estate companies and real estate investment trusts (REITs).
Related: Learn How to Invest in Real Estate
2. Commercial property real estate mutual funds
Another interesting way to invest is by putting your money in commercial property real estate mutual funds. Again, they are highly liquid and often come with low management costs. Some mutual funds, such as DFA Real Estate Securities Portfolio (DFREX), claim to offer consistent returns due to following a strategy backed by decades of academic research.
You should bear in mind that some real estate mutual funds have a diversification of both residential and commercial interests. But the good news is there are some that specialize only in commercial property investments. It's worth researching which holdings focus on commercial property, and then on top-performing mutual funds whose portfolios comprise of such holdings.
Residential vs. Commercial Investments
There are a few noteworthy differences between residential and commercial real estate investments. Residential, which can range from two-family rental properties to 200+ unit apartment buildings, tend to be more management intensive than commercial properties. Leases are generally signed on an annual basis which convert to month to month, making turnover common. In a 200-unit property, it could mean that an owner is dealing with calls from 200+ different people any given week. That said, most investors understand the basic premises of leasing residential properties and therefore, are drawn to the simplicity of residential investing.
Commercial real estate is slightly more complicated. Leases are more nuanced, often tailored to the specifics of the tenant and their circumstances. Yet leases tend to be longer (5-10+ years) and are often structured as "triple net" – meaning that the tenant is responsible for their pro rata share of the taxes, insurance and common area maintenance (CAM) charges. This reduces the financial burden on the owner. Those who are able to understand the nuances of commercial real estate often find this market segment to be highly lucrative, and therefore, are often drawn to commercial property mutual funds.
Get access to our FREE weekly newsletter exclusively covering the latest updates from the real estate crowdfunding world
3. Commercial property REITs
REITs (real estate investment trusts) operate in much the same way as mutual funds. The only significant difference here is you can diversify your holdings based on the type of real estate class the REIT invests in. In other words, you have a lot more flexibility with where your money goes when you invest in a REIT.
REITs are another extremely popular way of investing in commercial property without needing to be a landlord. When you research the market, you'll come across a plethora of commercial property REITs that will best suit your needs. Be sure to steer clear of REITs that aren't publicly-traded, because they often have a lack of liquidity, high costs, and low transparency.
How to Pick the Right Commercial Property REIT
REITs will often specialize in a certain product type (e.g., multifamily, office, retail or hospitality) and/or geography (e.g., Northeast, Southwest). Some are long-term buy-and-hold investors, whereas others have a shorter investment horizon. Whatever the case may be, it is important for investors to evaluate the REITs business strategy to ensure it is aligned with their own goals and priorities
There are a few other things to look for when selecting the right commercial property REIT:
Management: Evaluate the REIT's management experience and track record. Look to see how the REIT has performed across multiple real estate cycles. Be wary of those that are newly established and have only been around during the most recent market upswing. How a REIT performed during previous downturns is telling.
Diversification: Investors generally have different views on the importance of REIT diversification. Some will argue that a lack of diversification (i.e., specialization) is a good thing—the REIT sticks to what it knows best. Others, meanwhile, will urge investing in a REIT that has more diversification, either across product types or in different geographies. This hedges against risk.
Dividend Yield: Just as you'd look at how a stock has performed over time, do the same with REITs. Look at the REIT's dividend yield (currently) as well as dividend history. How fast have the dividends been growing over time? See how this compares to alternative investment opportunities.
Related: Real Estate Crowdfunding Trends
4. Commercial property real estate company shares
You might not be aware of this, but there are some companies out there that specialize in buying and managing commercial properties and that accept individual investors in their projects. Depending on your needs, it could make sense to invest in one or more companies like that individually rather than into the pooled money structures of a mutual fund or REIT.
The companies in question often focus on assets like apartments, office buildings, senior housing projects, student housing, etc. As you can appreciate, there can be some downside to such investments. The biggest is probably that while the return on investment is among the highest in the industry, the risk is also commensurately high.
And as there are very few formalized ratings of these kinds of investments, you'll need to scrutinize the company's offering yourself before buying any shares. Still, with that said, you have even more flexibility over your investment diversifications than with ETFs, mutual funds, and REITs.
5. Commercial property construction company shares
Would you prefer to invest your money solely in brand new construction projects? If so, buying shares in commercial construction companies might be the way forward for you. As mentioned earlier, commercial construction has experienced steady growth since 2010. Due to that fact, there are opportunities to invest in large scale commercial construction projects.
You can obviously do that by purchasing shares in the companies that make those projects happen. There will always be a need for brand new commercial properties, whether they are retail units or office blocks in expanding central business districts of major cities.
6. Loaning money to real estate investors
Sometimes you might come across opportunities on a smaller scale that are likely to offer a relatively high ROI. Opportunities for this kind of investing can be found on sites like Patch of Land and Zeus Crowdfunding.
The pros of using such websites are they make borrowing easy for real estate investors, and also costs them less due to lower fees. But the cons are that peer-to-peer lending such as this is inherently risky. Plus, some lenders only allow a low LTV (loan-to-value) ratio such as 65%. That said, Zeus Crowdfunding offers the only guarantee (that I know of) in the real estate industry and you can listen to my podcast conversation with Steven Kaufman, Zeus' founder, where he discusses how he does that.
Risks and Benefits of Peer-to-Peer Lending for Commercial Investments

As noted above, there are both pros and cons to investing via peer-to-peer lending. Let's start with the pros.
Benefits of Peer-to-Peer lending include:
High-interest rates: Because many investors turn to P2P lending as a last resource, investors can usually charge a premium for their loan, higher than they might be able to achieve via other real estate investing opportunities. Short-term in nature: Many P2P loans are short-term in nature. The loans may only be for a year or less, particularly if the owner only needs bridge capital, construction financing or other short-term capital. Most borrowers will then recapitalize using more traditional lending products. This allows investors to maintain liquidity if they'll need access to that capital in the short- or medium-term.
Risks of Peer-to-Peer lending include:
Higher risk of default: Many P2P borrowers turn to this source of capital as a last resource, when all other traditional sources of capital have dried up. This could be a red flag about the project, such as cost-overruns. Depending on how the deal is structured, the investor (P2P lender) may be in a second, third or even fourth position for repayment, which puts their capital most at risk relative to the senior lenders in the positions before them. If the borrower defaults, the P2P lender may be the last to be repaid (if at all).
Online P2P platforms are still new: Websites like Patch of Land and Zeus Crowdfunding are still relatively new. While P2P lending has been around for decades (offline), those who engage in this form of online real estate investing are putting a lot of faith in the underlying platform used to structure the transaction.
Do you personally know a real estate investor with a knack for spotting the next big thing in commercial real estate? If so, you could also consider lending some money to them. It's a mutually beneficial arrangement, and you've got a more direct involvement with the investment.
7. Commercial property crowdfunding
Last, but not least, you might also consider investing your money in commercial property crowdfunding projects. It's a relatively new way for real estate investors to raise the capital they need for commercial property projects. Examples of the main platforms include CrowdStreet, RealCrowd and Fundrise, to name but a few.
You also get the opportunity to determine what commercial property investment verticals you like the sound of. For example, CrowdStreet specializes in commercial real estate in major U.S. cities, RealCrowd provides access to industrial and multi-focus offerings, and Fundrise also accepts investments from non-accredited investors.
These kinds of crowdfunding investment websites let you manage your investments on a user-friendly online portal. Many growing commercial real estate investment companies often use crowdfunding as a means of marketing their brand to potential investors. Crowdfunding is a new concept; it has only been around for a few years. But, while the idea of commercial property crowdfunding is relatively new, the science behind the investment vehicle is proven.
Unique Benefits of Investing in Commercial Property
There are a few unique benefits to investing in commercial property that should not be overlooked. These include:
Having a dependable income stream. One reason people love investing in commercial real estate is for the predictable, ongoing cash flow that properties generate. Investors will often take their cash distributions on a monthly or quarterly basis.

Real estate is highly tax advantaged. Through write-offs, such as depreciation, commercial property will often generate a "loss" on paper while producing double-digit returns for investors. This makes investing in commercial property highly attractive for those looking to maximize their taxable income.

Ability to leverage. As tenants pay down the mortgage, and/or as building improvements are made, investors accrue equity in the property. That equity can then be leveraged to invest in other commercial real estate deals, helping investors build their portfolios over time.

Little correlation with the stock market. As noted above, commercial real estate has very little correlation to the broader equities' markets. This means that the stock and bond markets can fluctuate, up or down, without having a significant impact on commercial real estate values. Commercial real estate values move at much slower pace, and often lags behind any broader economic disruption. In other words, commercial property can (and often does) hold its value while other investments experience turmoil.
To find out more about real estate investing, please explore the resources below.
If you want to build your wealth and earn passive income from real estate investing and are looking at deals on marketplace platforms or through developers online, then I recommend you start by the 8 Key Financial terms so you can understand every deal you look at.
The 8 Financial Keys are not only a great way to get started, they are also essential to understanding how you'll make money in any real estate deal.
You'll learn the most important financial concepts you need to know in real estate investing that apply to every type of real estate no matter the asset class (office, industrial, residential, hospitality, retail).
If you've got some online real estate investments under your belt already and are beginning to receive passive income checks each month, or have been paid off with profit – or (hopefully not) are finding that some deals are not quite panning out the way you expected, then check out this page for a wealth of free resources.
Here I cover everything from beginner all the way to very advanced real estate concepts.
You'll find podcasts with developers, researchers, professors and other industry experts, detailed articles, and lots of videos, both short and long that are all easily searchable and totally free.
I am not shy about being straightforward about real estate investing; it is exciting, lucrative, and can help you build wealth and income as part of your investment portfolio, but it is not without its risks.
As an advanced investor you know this already, so I've put together a webinar for you that guides you through one of the most important components of real estate investing: Real Estate Contracts – reading between the lines.
This is advanced learning and based off conversations I had with three of the top real estate attorneys in the country, combined with my own personal experience. Access it here; it could be the most important webcast you watch all year.