The GowerCrowd Sponsored Masterclass Series
Get 50 accredited investor leads GUARANTEED!
The Process
We record 30 minute 'Masterclass' with you to tell your story 

Format is informal Q&A or presentation by you, moderated by Adam

Content should be educational in nature with a call-to-action at the end.

Calls are recorded video Zoom calls.

You can use slides if you like. 
Marketing
We will build a GowerCrowd Facebook campaign to promote the Masterclass

Banner ads included in the weekly GowerCrowd newsletter distributed to our most engaged subscribers.

Every time a prospect signs up you get an email notifying you of their interest.

See a sample notification email below.



LEAD LISTS
In addition to providing real-time leads, you also get an updated list of leads like the one below.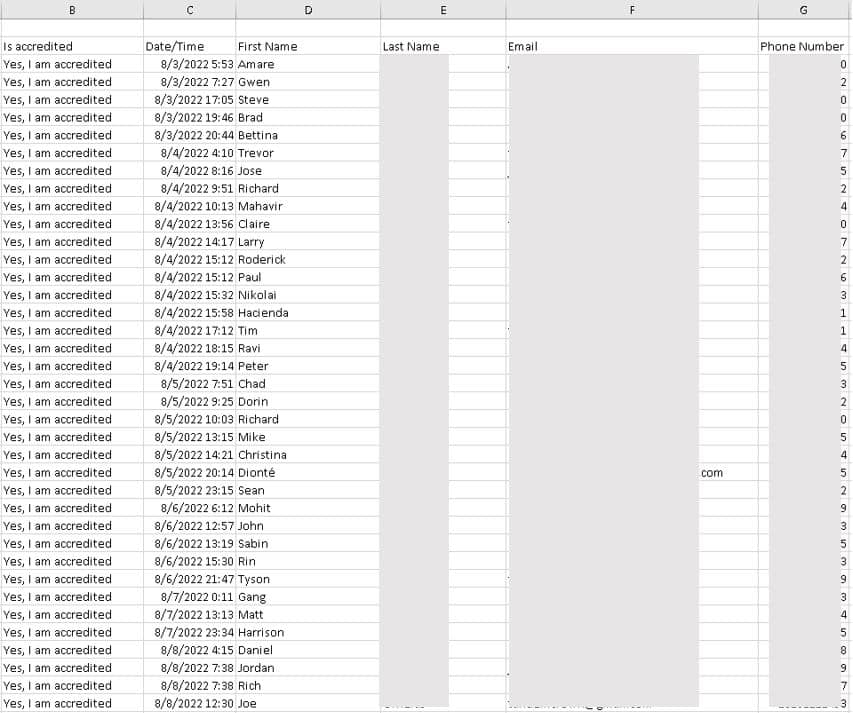 1.
We record an educational masterclass together.
2.
We do all post-production work to showcase your offering.
3.
We build and launch a GowerCrowd Facebook campaign.
4.
You start getting accredited investor leads.
We have spent hundreds of thousands of dollars on paid advertising both for GowerCrowd and for clients. Average cost of acquiring a new accredited investor lead can exceed $400.
With the GowerCrowd masterclass program we guarantee 50 accredited investor leads for just $100 each.
NEXT STEP - Application Questionnaire
In the short form below, please tell us about yourself, what you do, and your value proposition.
Tell us more:
Please note that due to regulations, not all applicants can be accepted for a Masterclass promotion. All participants agree to these terms and conditions.
This is for you if you...
Want to raise more money for your deals.

Want to build your investor list

Are a crowdfunding platform.

Are a syndicator active in the market

.
Frequently Asked Questions:
1. Are the leads you get for me real?
Yes, absolutely. These are fresh, real, live leads who have expressed interest in learning more about you.
2. What information about each prospect do I get?
You'll get first name, last name, email address, phone number, and an affirmative statement that they are accredited.
3. Do you guarantee these leads will invest?
No!  We do not guarantee that. We'll bring you the leads but you have to convert them and that depends on your IR team's ability to convert, the quality of your deals, and the terms you offer.
4. Can I see some samples of other masterclass series webinars?
Website Disclaimer:  All Content contained on this website is intended for informational purposes only and does not purport to be complete or accurate. No recommendations are made or intended to be made regarding investment in real estate of any kind. For further information on any investment opportunity contained in any content of this website, you should visit the respective crowdfunding portal or site where such investment opportunity is published. None of the content presented on this website has been prepared with any reference to any particular user's investment requirements or financial situation, and you are encouraged to consult with professional tax, legal and financial advisors before making any investment decisions or including the decision to invest at all. GowerCrowd makes no representations or warranties as to the accuracy of any information and accepts no liability or fiduciary responsibility whatsoever. Offers to sell, or the solicitations of offers to buy, any security can only be made through official offering documents through registered portals outside of this website. Investors should conduct their own due diligence, not rely on the financial assumptions or estimates displayed on this website, and are encouraged to consult with a financial advisor, attorney, accountant, and any other professional that can help you to understand and assess the risks associated with any investment opportunity. Neither Adam Gower nor GowerCrowd or any related entities are a registered broker-dealer, funding portal, or investment advisor and does not conduct any activity that would require any registration as such.