Real Estate Crowdfunding Trends in 2020
Introduction
Real estate crowdfunding has piqued the interest of investors of all kinds. Even those with nominal sums of money to invest can now invest in institutional-caliber real estate projects that were once reserved for only the upper echelons. Real estate crowdfunding is particularly intriguing to those who want to diversify their portfolios, but who may be hesitant to dive head-first into the commercial real estate waters.
One of the reasons commercial real estate is so attractive – via online crowdfunding or otherwise – is that it tends to weather economic storms relatively well. We're seeing that today. Unlike the wild swings in stocks or bond prices, commercial real estate values have held steady despite the economic turmoil brought on by the COVID-19 crisis. To be sure, this isn't to say that commercial real estate will escape unscathed. However, in general, investors remain optimistic about the long-term prospects of commercial real estate. And as such, those with capital to invest are starting to look at how they may do so via crowdfunding platforms.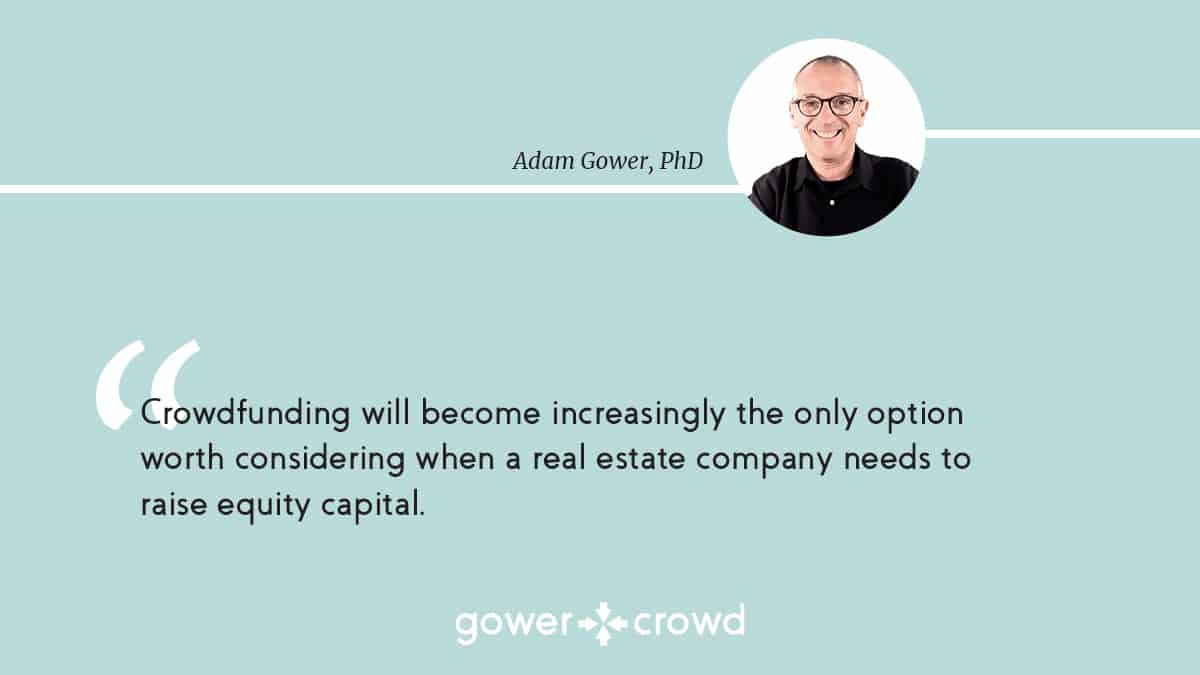 Real Estate Crowdfunding Trends
Commercial real estate prices have been on the rise for years, and as a result, many would-be investors have been priced out of some of the most attractive deals and opportunities. Bidding wars have become commonplace, particularly as more international investors look to park their capital in what's considered a relatively "safe" asset class. Unable to invest independently, many are opting to co-invest alongside many others, in smaller increments, through real estate crowdfunding platforms and directly with real estate sponsors who utilize crowdfunding to capitalize their projects.
Real estate crowdfunding has been around for years, but only recently has it gained widespread acceptance among investors. Any early hesitation surrounding these online platforms has since been replaced with a recognition that online crowdfunding can be a powerful tool for those seeking to raise capital for commercial real estate deals.
We expect real estate crowdfunding to continue to evolve in the years to come. Here are a few of the top trends we're monitoring in 2020.
Want to get started with real estate crowdfunding? Gower Crowd can show you how.
Trend #1: Institutional Capital
One of the reasons people are drawn to real estate crowdfunding is that, depending on the structure of the platform and deal, an individual can invest with as little as $100. This can be a great way for people to learn about commercial real estate, but such small investments present a challenge for those looking to raise more significant capital for larger projects.
This led to the emergence of crowdfunding platforms, or funds, that only accept accredited investors. Sponsors will often set a minimum threshold, say $50,000 or $100,000, as they crowdfund for their deals.
Institutional investors, such as pension funds and life insurance companies, are now starting to enter the fold, too. While crowdfunding was initially utilized for sponsor seeking smaller amounts of capital, sponsors are now finding that the same tool can be used to lure institutional investment in larger projects. Rather than seeking out hundreds of $50,000 investments, sponsors can now use these platforms to raise millions of dollars at once by pitching to institutional investors, who rarely invest less than $10 million at a time.
In 2020, expect to see more sponsors utilize crowdfunding to attract a blend of investors – accredited, non-accredited, and institutional investors alike. When raising capital, many sponsors will start by landing a major institutional commitment, say $20 million of the $25 million in equity needed to finance a project. The sponsor may then tout this substantial commitment when pitching to other investors, who would then contribute smaller amounts to fulfill that remaining $5 million needed. This approach may become more commonplace given that smaller-scale investors often take comfort in knowing a larger investor has committed to and believes in the project.
FREE Real estate syndication education and insight newsletter. Subscribe now.
Trend #2: More Sponsors Will Independently Crowdfund Their Deals
As the popularity and success of crowdfunding through online platforms becomes more visible, so will the desire by sponsors to establish their own, independent crowdfunding capabilities. Having been prohibited by law from soliciting investors outside of their immediate circle of acquaintances and business contacts, real estate sponsors are increasingly realizing the power of extending their networks to create a virtually unlimited pipeline of equity capital.
To date, most sponsors who realize how effective marketing their projects online can be have deferred to listing their projects on crowdfunding platforms as the means by which they leverage the opportunity. Increasingly, however, more sponsors will realize that by elevating their own visibility online they accomplish two goals in one; one, that their efforts raising money on crowdfunding platforms is facilitated and two, that the more they become known in the investment community, the more they can raise via their own websites directly.
Very few sponsors have realized yet the significance of being an early adopter of digital marketing to raise capital but for those who do, the opportunity before them is truly blue ocean. We expect the number of sponsors to increase exponentially as they begin to realize that without an effective online presence, their ability to raise capital begins to be eroded by those who have.
Trend #3: Rise of Specialized eREITs
Fundrise and other real estate crowdfunding platforms have begun to offer online "eREITs" – or online, non-trade real estate investment trusts. These eREITs function similarly to publicly-traded REITs. Those looking to buy shares of real estate, which provides greater liquidity than investing in a property directly, will want to consider the eREIT model.
In 2020, we're monitoring not only eREIT activity, but specifically, the growth of specialized eREITs. For example, Fundrise offers five eREITs characterized by region (West, East, Heartland) and investment style (Growth, Income). We expect this specialization to increase, particularly among younger investors who want to have more of a role in determining how their investment is made. For example, in the wake of the COVID-19 crisis, we may see investors steer away from certain asset classes, such as assisted living or hospitality. Investing in a specialized eREIT is one way for someone to have more control over the assets in which they invest.
Trend #4: Further Consolidation
Since the JOBS Act was passed in 2012, which allowed non-accredited investors to participate in real estate crowdfunding, and sponsors to raise money from the general public, there has been an explosion in the number of platforms that have come to market. There are dozens of online portals for people to consider investing through. Not all platforms will survive. Some will also not be equipped to go the distance and scale into a sustainable business. We've already seen several companies go under. The sudden shutdown of RealtyShares in late 2018 is one prominent example that took the industry by surprise. 
RealtyShares collapse had nothing, however, to do with the CRE crowdfunding per se; it was a failure brought about by the way the company was capitalized and not because crowdfunding real estate syndications is a flawed thesis. The biggest challenge facing the industry is, and always has been, the impact of a real estate downturn – such as the one triggered by the Coronavirus crisis.  Nothing tests a real estate investment hypothesis better than the forces of the economic cycle, no matter what the cause of the downturn, and it is likely that some platforms and sponsors will have a hard time riding the out the storm.
More than flawed economic models led to the demise of RealtyShares, but we expect consolidation of real estate crowdfunding platforms will be primarily as a result of the impact of an economic slowdown in 2020.
Trend #5: More Accessibility to All
Initially, deals funded via real estate crowdfunding platforms were only available to accredited investors (i.e., those who have $200,000+ in income or $1+ million in net worth, excluding their primary residence). In 2014, laws were promulgated allowing Regulations CF and A+ of the JOBS Act to take effect opening the doors to non-accredited investors. Under Reg A+, sponsors were permitted to raise up to $50 million per year through securities offerings in what are sometimes referred to as 'mini-IPOs.' This also brought about the emergence of eREITs, which tend to provide lower thresholds for initial investments. 
Non-accredited investors can commit up to $2,000 per year to equity crowdfunded projects if the person's income is less than $100,000 per year, and up to $10,000 per year if their income is greater than $100,000. 
Regulation CF, the classic form of crowdfunding, initially permitted sponsors to raise up to $1 million per year from anyone, accredited or non-accredited, provided the raise was conducted through a regulated funding portal. Those that have taken the lead in this industry, such as the SmallChange website, have had a measure of success hampered by excessive bureaucracy making it difficult for them to reach their true potential.
As regulations loosen and as more companies realize they can raise money from non-accredited investors also, we expect to see sponsors to use Regulations A+ and CF to appeal to a wider range of investors for their deals – particularly small and mid-size deals that need to raise $10 million or less.
How to Get Started with Real Estate Crowdfunding in 2020
It is important to understand that each online crowdfunding platform operates a bit differently. Some, like Patch of Land, raise debt for real estate projects. Others, like ArborCrowd, raise equity. Then there are platforms like Fundrise, which operate eREITs. Some platforms are only open to accredited investors, whereas other will allow someone to invest with as little as $100.

With relatively low barriers to entry, it is tempting for the first-time investor to pull the trigger on a nominal investment just for the sake of getting started. But rather than invest haphazardly, investors are urged to do their homework on these crowdfunding operators before investing a penny.
As we mentioned above, we expect there to be a consolidation of platforms – and of sponsors – in the coming months, particularly as a result of the slump brought about by Covid, and in the longer term as the real estate cycle follows its natural course. Any investor will want to be sure they're investing with someone who's credible and can withstand changing market conditions. 
Related: 7 Ways You Can Invest in Commercial Real Estate Online
What to Look for in a Real Estate Crowdfunding Platform
There are many real estate crowdfunding platforms to choose from these days though only a handful really dominate the field. The biggest challenge is as much with deciding which platform to go with as it is with the array of investment opportunities the platforms offer, from different asset classes, sponsors, locations, types of investment. It can be difficult for any investor to navigate, but even more so for first-time investors or those who have little experience with commercial real estate.

An investor will want to start by considering his or her own financial situation and investing objectives. Are you an accredited investor? Many platforms are only open to accredited investors, so if you are not, then you can immediately cross these platforms off your list (for now!). What's your desired time horizon? Some platforms specialize in real estate deals that have a short lifecycle; others are long-term investments in which it may be years before an investor gets their money back. How much do you want to invest? Minimum investments can range from $100 to $50,000 or more, so depending on how much you want to invest, this can be another easy way to filter through various platforms.
Now, once you've narrowed the options a bit, here are a few other factors to look at when considering otherwise seemingly similar real estate crowdfunding platforms.
The Team
One of the most important things to look for in a real estate crowdfunding platform is who's behind the company. In truth, many early real estate crowdfunding platformers were simply tech-enabled websites that allowed anyone to post their real estate deals. The people behind the websites may or may not have had any commercial real estate experience at all.
As the industry is an intersection of technology and real estate, so the most successful companies have been a marriage of tech entrepreneurs and commercial real estate professionals.  
Yet, while tech is important and not to take away from the herculean effort involved in building a successful real estate crowdfunding platform, it is (dare I say it) a commodity. The differentiating factor that investors must keep a keen eye out for is the platform's commercial real estate capabilities, for it is in that, and not the technology, that they are investing.

The most prominent platforms typically have a team of seasoned real estate professionals who vet real estate deals prior to allowing them to raise funds online. Any prospective investor will want to evaluate these teams, including their level of experience and underwriting capabilities.
The Sponsors
Perhaps the most important aspect to research before investing is the sponsor behind the real estate deal. The sponsors are who you are entrusting your hard-earned capital with when investing. They are the people who will be overseeing the day-to-day activities of the transaction, from acquisition through construction, and eventually through stabilization and refinance or disposition.
There are a few ways to differentiate a good sponsor from one who's great – indeed you would be better off investing in a mediocre deal with a first-rate sponsor than a first-rate deal with a mediocre sponsor. Start by looking at the track-record of the principals. What level of experience do they bring to the table? Do they have specific experience managing projects in this same asset class (e.g., multifamily, office or retail) and in this geography?
A great office sponsor may not be equipped to spearhead a multifamily transaction, for example. And someone who has specialized in South Florida properties may not be as capable of overseeing a deal in New England, where the market dynamics are much different. Be sure the sponsor has time on their side, as well. Look for a sponsor that has successfully navigated multiple real estate cycles, as markets will inevitably ebb and flow. 
Related: Aspects for Evaluating a Sponsor.
The Volume
When considering various real estate funding platforms, look at the volume of transactions hosted by each site. You'll typically want to find a platform that balances transaction volume with quality of transactions. For example, it could be a red flag if a platform offers up hundreds of deals at once – they're essentially farming commercial real estate deals from the masses, leaving the quality of these deals in question.
Conversely, a platform that only has completed a few transactions (or worse, zero transactions!) to date may also be of concern. Unless the platform is in its nascent stages, it leaves one to wonder how capable the sponsor is of raising the funds needed to move a deal forward. 
It's important to find a platform that strikes a balance between volume and quality. One way to gut-check volume is to ensure the platform has sufficient underwriting staff to adequately evaluate the number of deals featured on its site.
Another thing to look at is how the deals on any given platform are performing during the COVID-19 crisis. How a platform is communicating with sponsors and investors may be indicative of their sophistication in weathering the storm.
Transactional volume of sponsors also is of importance. Investors want to know if sponsors have sufficient track record that speaks to their capabilities and, as importantly, to their ability to raise debt finance. Particularly during downturns when debt dries up as banks become reticent in their lending, sponsors who can tap into debt markets will be better positioned to take advantage of opportunities that may arise out of other, less well positioned sponsors' misfortunes.
The Financial Projection
Here's a dirty little secret: some sponsors will use a crowdfunding platform as a financial vehicle of last resort. They may have tried, unsuccessfully, to raise the debt and equity needed for the project through more traditional means and have come up short. This is why it is so critically important to carefully vet the financial underwriting proposed by the sponsor. Be sure there's nothing you're missing.
What sort of details should you look for? Start by looking at the pro forma. Are the rent projections in line with market averages? Do expenses seem reasonable? What has the sponsor baked in for vacancy and other contingencies? What is the sponsor using as the going-in and exit cap rates? Any qualified sponsor will be happy to review their underwriting assumptions in detail with prospective investors (and you should run away from anyone who won't!).
The Customer Service
A platform or sponsor's customer service – or investor relations – should never be overlooked. This is what separates the technology-oriented platforms from those that are more investor-oriented (in other words, there's more than just technology connecting sponsors and investors).
A good customer service team will offer best-in-class investor relations to help prospective investors navigate the marketplace, including the nuances of each transaction and the finer-point details that some may not understand. A great customer service team will also provide robust informational materials to educate investors—not only about deals, but about crowdfunding (e.g. eREITs vs. specific deals) and commercial real estate trends more broadly. It should not matter whether you are a first-time investor or have decades of experience; the platform should offer the same quality customer service to investors of all kinds. 
And as with all things crowdfunding, the same is true not just of the platforms, but of the sponsors operating their own independent crowdfunding efforts. As an investor, you want to be sure that the sponsors you invest with are responsive to your inquiries, deliver reports and necessary documentation on time, and are forthright when challenges emerge.  The last thing you want is for a sponsor to go silent during tough times so be sure to stay in touch every so often so you can recognize when their responses are not quite the same as normal and may indicate something is amiss.
Conclusion
Crowdfunding for commercial real estate projects is growing in popularity. While it is still a relatively niche market, it is certainly becoming a more mainstream way for sponsors to line up both equity and debt for their projects. 
Those of us in the industry are watching the COVID-19 crisis closely, keeping an eye out for how the pandemic may impact commercial real estate crowdfunding moving forward. If there's a slowdown in traditional debt and equity markets, this could spark additional activity in the crowdfunding space. 
That said, we must also recognize that crowdfunding is a capital raising tool largely came about during an upcycle, with many platforms identifying as tech companies instead of true real estate companies. If and when the economy contracts (as a result of COVID or otherwise), we expect to see further consolidation of these platforms, with those founded by true real estate professionals to emerge as the industry leaders. 
And we expect that, particularly as the world becomes accustomed to working remotely and sponsors realize that they don't need to rely on the old fashioned in-person meetings to raise money (because they cannot), crowdfunding will become increasingly the only option worth considering when a real estate company needs to raise equity capital.
Gower Crowd can help you learn how to get started in real estate crowdfunding!  Check out the resources below for more information.
If you have only just started in real estate development, have completed no deals, have no email list, but know you want the freedom and wealth being a real estate developer brings, then I suggest your first step is to start evaluating deals so you can recognize a good one when you see it.
Here's where you should start. You'll learn everything you need to know – the different types of real estate, different development strategies, how real estate cycles influence the market, and all about due diligence.
If you want to find deals and raise money for them so you can start your real estate development business, then learning how to conduct due diligence so you can pitch your deals better to investors is a great place to start.
If you've already purchased one or more real estate project and are seeing more opportunities than you can finance, then now is the time to start building your investor network so you can finance all your next deals quicker.
You've already got some momentum; now start finding and educating prospects about what you're doing so you can build an email list of people to pitch to when you're ready to raise money for your next deal.
This is what we build for private clients all the time – it's called the Investor Acquisition System and you can access the entire program right here so you can find prospects, and convert them into being deep pocketed, repeat investors in your deals.
If you are a seasoned pro with multi-cycle experience, a substantial portfolio, a decent deal pipeline, and find yourself spending too much time raising equity capital because you're still doing it in-person, then it's time you put technology to work for you.
The wonderful thing about doing this is that you're not going to be doing anything different than you're already doing and, guess what, you'll never have to sit through investor meetings again.
Sounds crazy I know, but I lay the whole thing out for you in this white board workshop where I personally show you exactly what it takes for you to transform your equity raising into a fully automated, capital raising machine so you can find new investors while increasing commitments from your existing network.