Podcast Episode 308: Kate Talbot,
How Instagram Works for Real Estate Syndication
Today's Guest - Kate Talbot, Forbes Contributor
Kate is a freelance content marketer, author, and entrepreneur who helps brands engage millennials.
She has been featured on the Nasdaq, NPR, NBC News, CNBC, Huffington Post, VentureBeat, named an Instagram Marketing Expert from Foundr Magazine and Social Media Examiner, and is a Forbes contributor on the subject.
She is author of the best-selling book, "Oh Snap! You Can Use Snapchat for Business" which IBM named their 'Book of the Month.
She has managed social media strategies at Virgin America and Kiva and is a millennial marketing post-graduate lecturer at Ireland's Digital Marketing Institute and social media. 
See below for more links to Kate.
What You're Going to Learn
* What you need to know about social media influencers
* How to leverage Instagram for more reach
* How to use Instagram to raise capital
And much, much more.
Watch Some of the Highlights Here
How to Use Instagram to Raise Capital
Leveraging Instagram for More Reach
Subscribe now on any of these platforms so you don't miss a single episode.
Listen to the Full Podcast Here
Watch the Full Podcast Here
Last Updated on September 15, 2021 by Dr. Adam Gower WHITE BOARD WORKSHOP Need More Money to Finance Your Real Estate Projects? Learn how to find more investors, raise more…
READ MORE >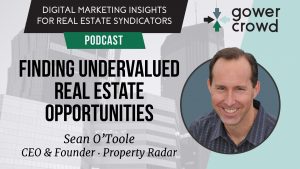 Last Updated on September 15, 2021 by Dr. Adam Gower Sean O'Toole, CEO and Founder of PropertyRadar Finding Undervalued Real Estate Opportunities The Investor Acquisition System: Find More Investors Raise…
READ MORE >
Last Updated on September 15, 2021 by Dr. Adam Gower Jay Olshonsky, President and CEO of NAI Global Real Estate Distress and Investment Outlook in 2020 and Beyond The Investor…
READ MORE >