Podcast Episode 306: Jenn Herman, Why Social Media is Mandatory
and How to Win the Game
Today's Guest - Jenn Herman, Jenn's Trends
Social media consultant  :  Speaker  :  Award Winning Social Media Blogger
Jenn's blog, Jenn's Trends, has won Top 10 Social Media Blog accolades over multiple years. 
Featured in Inc., Fox News, Yahoo Finance, HuffPost, The Verge, CBS Radio LA, and now the ultimate achievement, on GowerCrowd's Real Estate Crowdfunding Show (quit now Jenn, now you've reached the top!)
Author of multiple books including "Stop Guessing: Your Step-by-Step Guide to Creating a Social Media Strategy". 
See below for more links to Jenn.
What You're Going to Learn
* Best social channels for raising capital
* How to conquer imposter syndrome
* Getting comfortable with social media
* Why patience is the key to a successful campaign
* How charitable contributions can help you connect with investors
* How to create compelling content
* That there is no opting out of social media
And much, much more.
Watch Some of the Highlights Here
Best Social Channels for Raising Capital
Conquering Imposter Syndrome
Getting Comfortable on Camera
Patience Key to a Successful Campaign
Getting Comfortable With Social Media
How Charitable Contributions Connect with Investors
How to Create Compelling Content
There is No Opting Out of Social Media
Subscribe now on any of these platforms so you don't miss a single episode.
Listen to the Full Podcast Here
Watch the Full Podcast Here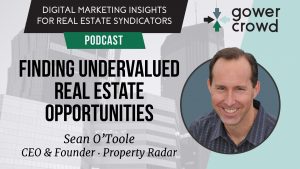 Last Updated on September 15, 2021 by Dr. Adam Gower Sean O'Toole, CEO and Founder of PropertyRadar Finding Undervalued Real Estate Opportunities The Investor Acquisition System: Find More Investors Raise…
READ MORE >
Last Updated on September 15, 2021 by Dr. Adam Gower WHITE BOARD WORKSHOP Need More Money to Finance Your Real Estate Projects? Learn how to find more investors, raise more…
READ MORE >
Last Updated on September 15, 2021 by Dr. Adam Gower WHITE BOARD WORKSHOP Need More Money to Finance Your Real Estate Projects? Learn how to find more investors, raise more…
READ MORE >