Podcast Episode 301: Deirdre Breakenridge - Raising Real Estate Capital Online Means Telling Your Story
Deirdre Breakenridge is a serial author.
She's written multiple books.
She is a renowned speaker.
She is a LinkedIn Learning instructor.

Deirdre has over 31,000 followers on Twitter, and she is an absolute Master of Digital Marketing.
See below for more information and links to Deirdre's profiles and websites.
Today's Podcast
What you're going to be learning in today's podcast is the importance of telling your story online, and how to optimize it for social media;
how to build relationships online;
how public relations (PR), and social media interact so that you can build your authority online.
You'll hear about the passion potential for your prospect.
You're going to learn about the importance of consistency in your messaging, and everything that you do online.
And you'll discover 'cornerstones, and cobblestones.'
Listen to or Watch the Full Podcast Here
Subscribe now on any of these platforms so you don't miss a single episode.
PR vs. Social Media
PR is all about being able to communicate in a way to build relationships. And if you think about it if you were in PR you are the bridge between what an organization or brand communicates and the public and you are the one who is either shifting opinions or you are protecting the reputation but you're always translating back how the public feels to the company. And through that comes your storytelling and the right messaging. So a lot of what we do in public relations is getting brands closer to their constituents.
Q: How do you, how do you educate somebody in how and in telling their story. How do you teach somebody to discover what their story is so that they can tell it in a digital world?
A: So it's really interesting and I will answer the difference, the social media part but I just want to jump on that because it's so important. A lot of times people think that the message that they want to share, people care about but the differences in order to really have a story that resonates and share something that you're passionate about it has to meet with what I call the 'passion potential' of your audience.
And that's social media; think of it as your your greatest channel; these communities where you can have storytelling. So as public relations is the way that we build the communication and build the relationship, social media is where it can take place because it's media. But in order to do that to tell you the truth you have to know what people are about. You have to understand their concerns their issues what they need what what they want if they want to be entertained and then you can match what you want to share to what they care about and that intersection, that's what I call the 'passion potential' and that's where what you do and say really matters.
Managing Social Media
Q: Alright, let me ask you this. One of the one of the biggest time sinks in real estate development is raising money. It's my life out there trying to raise money right. Right. Meeting investors or networking to meet investors going to meet them putting together pitch docs, preparing everything, getting everything ready. So one attraction of automating that process by digitizing it, recording your messaging and getting it out there, is that it's going to free up my time so that I can actually be involved in the business of real estate and not just raising money, right. So how do, how would you address the concern that a real estate developer might have they are going to end up, you know, like this all the time, thumbs I've got to do this and I need to be all LinkedIn and I've got to write articles and etc etc. How do you deal with that?
A: So I'm a firm believer that stories are told through content. Right. So if you, the executive, can just take the time to do what you do in your natural environment or let's say it's a media interview or you're being captured at an event. If somebody else is taking the photos, if somebody else is shooting that video, then that's content that if you surround yourself with a team that can help you and I'm not talking about a team of 10 people that you have to pay, because I know a lot of social media influencers who have one person follow them around all day, an assistant to take photos and videos and then that person schedules everything. That person makes sure that it goes out on LinkedIn, it goes out on Twitter, it goes out on Facebook or Instagram because there's so many tools that can help. So you don't have to be in the weeds.
If, you know, executives listening, you should not be in the weeds. You should be out there with the investors. You are selling your vision you're selling your projects you're raising money, somebody else can easily get their hands, wrap their arms around the tools the technology. You just have to show up and do what you do naturally and they'll capture you.
Best Platforms for Raising Capital
Q: All right so let me actually spin back to this idea of 'story,' because there are so many different ways of getting your message out there and you've described the social media as being channels, right, for your public relations. So again how does, how would you, what advice would you give to somebody who has only ever been used to the personal touch, right, to actually meeting somebody and getting to know them in person over lunch and over time and, you know, communication over maybe even over years right before somebody actually invests, to moving into the high speed world of online communications and tuning into what your story is so that you can get it out there effectively. What advice would you give to somebody trying to figure out how to do that?
A: So I would say first of all is you have to understand where you want to participate on social media. There are so many platforms and you can just get stuck in, 'I'm gonna be on Instagram and LinkedIn and Twitter and Facebook and maybe I want to be a Pinterest.' No, no. It's too much. You really have to start understanding where conversations are happening. You have to understand also maybe where the media is and perhaps where you might want to engage with media. You might want to figure out where your investors are and what they're doing and keying into those conversations. So you know if you are professional and if you're a real estate development it is, you are a professional, there are some places that you're going to look at. Time is money, correct. So I wouldn't spread myself thin. I would make a point of being on LinkedIn because that's professional relationships. I would also, Twitter is great for news, joining the conversation and media and also visually Instagram is great to share photos, images, video of your products, projects. The one thing I want to make note of, is that you can't just jump in and sell.
It is about being human. It's about what you bring to the table in your story. So connecting to design, connecting to maybe a community project because it's green, you know, it's an efficiency project.
Whatever it is. Those are things that you can talk about and join conversations with the right people. If you show up and you're present then whatever is behind you, if you show credibility your company, what's behind you shows credibility as well. But it is a peer to peer and it's sharing meaningful valuable information in conversations.
Last Updated on September 15, 2021 by Dr. Adam Gower Dave Seymour, A&E's Flipping Boston & Freedom Venture Investments Video Should Be a Key Strategy for Your Real Estate Business…
READ MORE >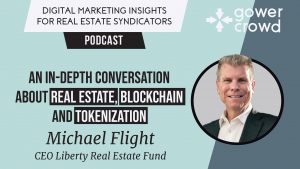 Last Updated on September 15, 2021 by Dr. Adam Gower Michael Flight, CEO of LibertyFund.io An In-Depth Conversation about Real Estate, Blockchain and Tokenization NEW BOOK BY ADAM GOWER PH.D.…
READ MORE >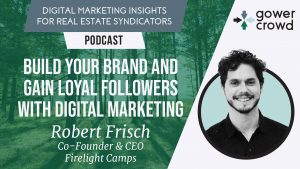 Last Updated on September 15, 2021 by Dr. Adam Gower 403 Robert Frisch, CoFounder & CEO – Firelight Camps Build your brand and gain loyal followers with digital marketing NEW…
READ MORE >