HOW TO RAISE CAPITAL ONLINE
Real Estate Syndication Best Practices
The Real Estate Crowdfunding Show
Syndication in the Digital Age
Everything you need to know about how to raise capital for your real estate projects online from the WIZARDS of the online digital marketing world.
Advanced Training:
WHITE BOARD WORKSHOP 
The Investor Acquisition System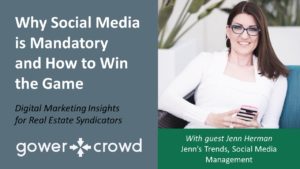 Podcast Episode 306: Jenn Herman, Why Social Media is Mandatory and How to Win the Game ADVANCED TRAINING How to syndicate real estate deals online LEARN MORE Today's Guest – Jenn Herman, Jenn's Trends Social media consultant : Speaker : Award Winning Social Media Blogger Jenn's blog, Jenn's Trends, has won Top 10 Social Media…
SHOWNOTES PAGE
Subscribe now on any of these platforms so you don't miss a single episode.
Series II: Conversations with Industry Leaders
Listen in to conversations with the leaders of the real estate syndication industry, the founders and CEOs of some of the top companies in the industry and discover best of class practices.
NATIONAL REAL ESTATE FORUM
NRE Forum Podcast #240: No-one's going to buy a $1bn on the Internet Following the passing of Howard Michaels in September, my guest today Michael Campbell recently promoted to the CEO position at the Carlton Group, has some big shoes to fill. As you'll hear from today's conversation, he is…
Listen Here
Advanced Training:
WHITE BOARD WORKSHOP 
The Investor Acquisition System