Podcast Episode 304: Crushing Real Estate Syndication on LinkedIn

with Viveka von Rosen
Watch Some of the Highlights Here
Building Investor Relationships
How to Pitch Your Deal on LinkedIn
Transforming Your LinkedIn Profile From Resume to Resource
3 Ways to Improve Your LinkedIn Profile
Best Practices for Finding HNW Investors
Listen to the Full Podcast Here
Today's Guest - Viveka von Rosen
* The world's foremost LinkedIn expert & author.
* International Keynote Speaker
* Forbes Top 20 Most Influential
* #PersonalBranding Expert
* LinkedIn Content for Sales Enablement Expert
* LinkedIn Learning Author
See below for more information and links to Viveka's profiles and websites.
Some of What You're Going to Learn
3 Ways to Improve Your LinkedIn Profile
Best Practices for Finding HNW Prospects on LinkedIn
How to Build Investor Relationships Using LinkedIn
How to Pitch Your Real Estate Project on LinkedIn
Turning Your Profile from Resume to Resource
Why LinkedIn is the Safest Platform for Raising Capital
And much, much more.
Subscribe now on any of these platforms so you don't miss a single episode.
Watch the Full Podcast Here

Last Updated on September 15, 2021 by Dr. Adam Gower FREE TRAINING What is Real Estate Crowdfunding? Learn how to build wealth and earn passive income in real estate while…
READ MORE >
Last Updated on June 22, 2020 by Dr. Adam Gower WHITE BOARD WORKSHOP Need More Money to Finance Your Real Estate Projects? Learn how to find more investors, raise more…
READ MORE >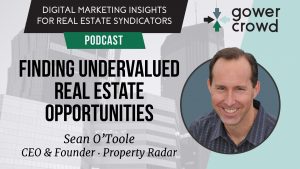 Last Updated on September 15, 2021 by Dr. Adam Gower Sean O'Toole, CEO and Founder of PropertyRadar Finding Undervalued Real Estate Opportunities The Investor Acquisition System: Find More Investors Raise…
READ MORE >