239 Nav Athwal, RealtyShares Special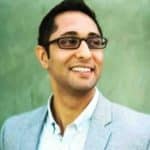 Nav Athwal: Reflections
Nav founded Realtyshares.  He is one of America's truly inspirational leaders. He was one of the very first entrepreneurs to build a real estate syndication (or crowdfunding) platform after the JOBS Act was passed.  He grew RealtyShares from nothing to being nearly a billion dollar company in fewer than four years before leaving a year before the company eventually folded.
The lessons and insights he shares with you in this podcast provide the backdrop for why, as a developer, investor, or marketplace, there remains room for considerable confidence and optimism in online syndicated real estate deals through crowdfunding.
The Rise and Fall of RealtyShares
The news of the collapse of the RealtyShares came as a great shock to the real estate crowdfunding community on the sponsor side, the investor side, and, naturally, to other marketplace platforms operating in the same space. It also came as an unwelcome surprise for the folk who had been working so hard at the company to make it a success and who had no expectation that the company was going to fold.
In this RealtyShares special, there are three key things to learn.
One, as an investor you are going to hear about how intensely focused the company was on conducting industry leading due diligence on deals they listed on the platform – you are going to want to be sure that any deals you invest are as thoroughly researched.
Two, as a sponsor, the obvious lesson is that while using online marketplace platforms is a great way to get going, you also definitely want to have your own independent channels also – if you are interested in learning more about expanding your own investor network, please let me know using the contact page and I'll send you some information about how to do that.
Three, the overriding lesson to be learned is that it is not online real estate syndication itself that is a flawed thesis, but rather the business model upon which RealtyShares was founded that led to its demise.
Leaders of The Crowd
Conversations with Crowdfunding Visionaries and How Real Estate Stole the Show
Discover how laws that gave us crowdfunding were solely meant to finance small companies and yet inadvertently opened the doors to allow you to invest in real estate like never before.
Read the book and listen to the actual conversations.
What Happened
In his 1974 book Winning Through Intimation Robert Ringer describes how (some) real estate developers will build apartment buildings in the Sinai Desert – where nobody could possibly want to live – if there are investors willing to finance the project. The point he's making of course, is that of the tail wagging the dog, that even where there is no substance whatsoever, if an investor is willing to pony up the money, there's always going to be a developer willing to build the right project in completely the wrong place.
It is exactly what is happening in some corners of the online real estate syndication world of crowdfunding today. In fact the next shoe to drop after Realtyshares - if no other platforms fold first - will be when developers start to fail because they are building unrealistic projects in unrealistic places to unrealistic returns and they're at it because investors are willing to give them the money to do it.
RealtyShares recognized this and got that part of the equation absolutely right. The company was ultra-diligent in ensuring that the projects they put on their platform were prudent and thoroughly evaluated. Ironically, a challenge RealtyShares faced was that the deals that were getting through their detailed screening process were showing return profiles lower than other crowdfunding platforms and some independent development deals because they were true to prudent underwriting and didn't succumb to hyping the real estate assumptions just to drive up returns and draw in more investor capital.
Where the company failed was where some real estate developers also fail; they sought out and allowed the capital upon which their business model was reliant to dictate how the business was to be built.  Through Robert Ringer's lens they built the right product – an extremely diligent real estate underwriting platform where investors could find credible deals - but they built it in the wrong place, putting it into the high-octane world of tech startups instead of the more sedate real estate world where a steady, long term perspective is the key to longevity and wealth.
7 Steps to Raising Equity Online
Subscribe now on any of these platforms so you don't miss a single episode.
Last Updated on September 15, 2021 by Dr. Adam Gower Mike Capuzzi, Founder of Bite Sized Books How Writing a Short Book Will Attract More Investors NEW BOOK BY ADAM…
READ MORE >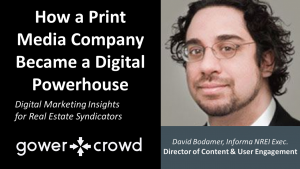 Last Updated on September 15, 2021 by Dr. Adam Gower WHITE BOARD WORKSHOP Need More Money to Finance Your Real Estate Projects? Learn how to find more investors, raise more…
READ MORE >
Last Updated on September 15, 2021 by Dr. Adam Gower Calvin Cooper, Rhove How a Technology Startup is Helping Renters Become Owners The Investor Acquisition System: Find More Investors Raise…
READ MORE >