210 Bill Bedell, Investor
Bill wanted to invest in real estate deal but did not have enough money to do so.  That was until he came across the SmallChange website.  SmallChange had a list of all their currently ongoing projects and they updated it with what the type of project was, and was it open to accredited investors or non-accredited investors.
Not being a millionaire (accredited investor), Bill realized that SmallChange was speaking to him and may give him the opportunity to invest in real estate that he had been looking for.  Being tech-savvy, Bill set up an alert so any time the SmallChange website page changed he would know about it.  In fact, he was waiting for the first moment a project that was aimed at non-accredited investors went online, so that he could invest.
Spare Time Real Estate Investing
While Bill was searching for a way to invest in real estate, he was primarily focused on completing his Ph.D. at Cornell in chemical engineering.  He was looking at deep biological topics known as 'systems biology' and he was approaching the subject more as a theorist trying to understand how the different cells in the body coordinated with each other to grow new blood vessels.  His research helps explain how the leopard gets its spots and he had spent about 5 years working on this, engaging in other hobbies and interests.  One of these was and remains real estate and urban development and he takes pleasure in understanding how to get things built in society.
Having a family that was involved in real estate back around the time of the dot com bubble in the early 2000's helped acclimatize Bill to the jargon around real estate. His father had acquired a bunch of houses in Portland Oregon and this gave Bill a foundation of education about the financial side of real estate investing – how a mortgage works and what kind of market conditions impact investing.  He came to realize that it is a hard thing to find a piece of land that you really, in a neighborhood you like and then to build something of your own because, in Bill's mind, every place that is cool has already been built up.
Leaders of The Crowd
Conversations with Crowdfunding Visionaries and How Real Estate Stole the Show
Discover how laws that gave us crowdfunding were solely meant to finance small companies and yet inadvertently opened the doors to allow you to invest in real estate like never before.
Read the book and listen to the actual conversations.
Finding SmallChange
This sense of limited supply in areas that interested Bill drew him towards learning more about the infill process and what it takes to change the fabric of a preexisting city as opposed to starting from fresh.  His process of discovery brought him to the StrongTowns which is a kind of a think tank about how to balance balanced budgets of municipalities particularly in the smaller cities and smaller towns of the U.S.  There is a large infrastructure burden in all these towns because everyone is so automobile dependent and addicted to a low density lifestyle.
This creates a financial burden because tax receipts are too low compared to how much these towns have to spend on infrastructure.  One of the major remedies for this is to add more infill development.  And it was through the StrongTowns website that Bill came to hear about SmallChange and their whole philosophy towards gradual in-fill.  SmallChange, and by extension its founder Eve Picker [listen to Eve talking about SmallChange and her path to crowdfunding real estate here].  Bill sees Eve has having a really important piece of the puzzle of how to resolve infill challenge because she provides the financing.
7 Steps to Raising Equity Online
Investing in Infill
There is a big difference between wanting to buy a house for yourself and to build it or renovate it and investing in somebody else's deal.  For Bill, the whole idea of infill whether it is him or someone else doing it is sort of an underappreciated economic opportunity.  Being fresh out of graduate school an in his first job, it is kind of absurd to think that he would be funding his own real estate deals unless he was in the business and was a professional real estate developer.  Instead, investing in a deal on the SmallChange website has given Bill a way to make a little bit of money based on what he describes as his 'armchair understanding of how valuable infill can be', and it also provides him with a good chance to learn a lot about the infill process itself. The architect developer on the deal Bill invested in, Jonathan Tate, has been very good about filling the investors in on what the plans are, whether there are legal things that need completing, financing mechanisms and so forth.  For Bill, it is an interesting educational process as much as it is an investment.  A novel take on the oft-cited learn-by-doing approach.
Socially Conscious Investing
Adding further value to the transaction for Bill is that a primary motivator for him is that the deal has a kind of a social conscience in that it is doing good for the community in which it is located.  This is part of the return to Bill that cannot be measured in monetary ways.  Had he wanted just a financial profit, he could have just as easily picked up a real estate REIT that went out and built greenfeld houses in Arizona somewhere.  If making money were the primary driver there are better ways to do it like, perhaps, investing in the stock market.  Bill is expecting around a 10 percent return overall and the project will take around a year to complete, maybe a bit longer.  For him, the return is comparable to what he would get on the stock market, 'but way more fun!'
But for socially conscious investors like Bill, the investment was as much about the project and the almost the aesthetics of the kind of building of which he wanted to more built.  He has invested in two beautiful little houses that he himself would love to own but cannot afford today.  He longs for the day when there are more homes like the ones he has invested in and by helping Jonathan build the models in New Orleans.  Bill sees it as being in his own self-interest in a way because, perhaps, a home like that will be available when he can afford to buy one himself.
Researching the Deal
To figure out a market that is thousands of miles away from him, Bill did his homework. He studied all the documents about the deal on the SmallChange website and that are readily available to anyone with an interest in investing.  He went on real estate sites like Zillow and looked at what is available on the market right now and what that has to do with proximity to transit and jobs.  He likes the neighborhood where the deal is situated.  You cannot find a single family home in this area because everything is either a duplex or a mansion so the only way to buy and live in a single family home in the area is if you are willing to spend a few million dollars.  So the little 'starter homes' that Jonathan Tate is building and that Bill invested in really fits in this niche of being highly desirable detached product in this neighborhood. It is high quality construction and small but still something that a family could afford.
Regulation CF Real Estate Investor - FIRST EVER
The foundation of credibility came from the SmallChange website and from Eve who is a thought leader in the space. Adding to this is that Jonathan Tate has a very established practice.  Having been the first person to invest in this deal, Bill Bedell holds the title, unless proven otherwise, of the first Regulation Crowdfund, the first non-millionaire, real estate investor.  If he could Bill says that he would invest in every single deal that comes my way as long as it looks as high quality as the first one.
The $2,500 Home
Bill has a novel perspective for what it means to be able to invest in deals like he did on the SmallChange website. Many people see buying a home as the best way to do that, but, for someone like Bill, coming up with the thousands of dollars necessary for a down payment to be able to do that might simply make entering the real estate market practically impossible.  The way Bill sees his $500 investment in the Jonathan Tate house in New Orleans is as though it were the requisite down payment needed to buy a house.  If a down payment would usually be 20%, then, the logic goes, his $500 investment just bought him a $2,500 home. He sees it as a way to build wealth.
Harvard Educated Architect
This works well because it means that anyone can have a Harvard educated architect – as is Jonathan Tate – doing the heavy creative and development work and the investor can just get his or her returns from that without having to do the work themselves.  Crowdfunding offers a huge opportunity to investors like Bill Bedell, and Eve Picker has realized that there is a space to kick start, to borrow the metaphor from the original big crowdfunding website, to kickstart some projects that were not traditionally attractive to banks.  In this way she is using crowdfunding to show that these kinds of deals are viable and as sort of a line of evidence that there is real enthusiasm behind this kind of development.
Subscribe now on any of these platforms so you don't miss a single episode.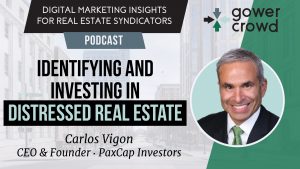 Carlos Vigon, PaxCap Investors Identifying and Investing in Distressed Real Estate The Investor Acquisition System: Find More Investors Raise Money Online Finance Your Projects WHITE BOARD WORKSHOP LEARN MORE Carlos…
READ MORE >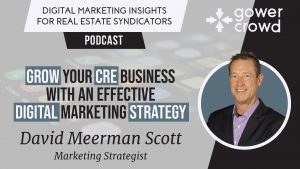 Last Updated on September 15, 2021 by Dr. Adam Gower David Meerman Scott, Marketing Strategist Grow your CRE business with an effective digital marketing strategy NEW BOOK BY ADAM GOWER…
READ MORE >