What is Real Estate Crowdfunding?
Learn how to build wealth and earn passive income in real estate while someone else does all the work.
209 Eve Picker, SmallChange
Eve Picker, Founder & CEO
Eve Picker is an architect by training and fairly early on in her career she was always very interested in cities and took herself off to New York City to Columbia University to do a Masters in Urban Design because she was interested in the design of cities and not of just buildings.  After she moved to Pittsburgh she found herself living in an area that was in need of revitalization.  She became involved in creating a community development corporation and went about the business of using nonprofit dollars to try and revitalize the neighborhood.
Developing For Change
It was a natural step for Eve to move into doing real estate development herself and she started doing projects her own.  They were always in neighborhoods where she felt she could make a difference, but, disconcertingly, she found that they were generally really tough to finance.  Remarkably, one of her more challenging projects actually 12 different sources of financing on it.  And yet Eve felt that these were areas in inner city neighborhoods that were in the greatest need of change and consequently innovation would be important if she was to have an impact.   Then came along the bank meltdown of 2007/08 restricting still further her access to capital, and Eve found that banks became even more conservative than already they had been.
She did not have a group of equity investors; her partners were often the city of Pittsburgh who wanted to see grittier areas revitalized, and with the cutting off of finance she was unable to any longer do the kind of socially impactful development work about which she was so passionate.  She laments that she was "stopped cold in [her] tracks, and so when she heard about the JOBS Act and crowd funding she found it especially fascinating because she thought she could create a tool, a way for developers like her to raise funds for projects.
Leaders of The Crowd
Conversations with Crowdfunding Visionaries and How Real Estate Stole the Show
Discover how laws that gave us crowdfunding were solely meant to finance small companies and yet inadvertently opened the doors to allow you to invest in real estate like never before.
Read the book and listen to the actual conversations.
From Developer to Financier
Eve saw the JOBS Act and crowdfunding as an opportunity to actually help developers like her raise funds in a different way; to raise a very critical piece of funding for their projects and that is precisely what she is doing.  Eve thinks of SmallChange as being a mission driven business that wants to make an impact.  She has created a 'change index' on the website that keeps her true to this mission, whereby deals are measured by the amount of good that they can bring to a community.
Although Eve formed a crowdfunding portal, she prefers to think of her business more as a financial technology platform.  She has moved from being a developer to helping to create a financing tool.  She has a real estate equity crowdfunding platform that, at its core, puts investors together with real estate developers online.  Registered with the Securities and Exchange Commission and a member of FINRA the financial regulatory agency, Eve's site is one of only a very few in the real estate space that has gone through a highly regulated process of approval to be able to use the brand new security tool called Regulation Crowdfunding – or Reg. CF for short.
The securities law that allows for this has only being active for just over a year and it is really the first time that unaccredited investors – the average man and woman in America – have been permitted to invest.
7 Steps to Raising Equity Online
In Love With Reg. CF
On the SmallChange platform, while there are investment limits based on income and net worth, anyone over the age of 18 can invest in a real estate project and that is really a ground breaking difference in the world of real estate finance and development.  Developers can set the minimum investment amounts very low and indeed on the first offering [check the podcasts with Jonathan Tate, developer, and Bill Bedell, investor from that deal] the minimum was just five hundred dollars and probably about a third of their investors invested in the minimum for that project.
Eve is passionate about her business and talks of being 'in love with regulation crowd Crowdfunding [because] it's a way for people who live in cities and neighborhoods to really engage in a meaningful way in the built environment around them. And it's clear that for the first time that they've been given that opportunity.'
Getting Your Deal Funded
To get your deal funded on the SmallChange website you will need to start thinking along the lines of how you would be presenting were you to take the deal to a bank for a loan – only without the bureaucracy and institutional frigidity.  Put together a quick high-level summary about the project where it is, why you want to do it, how you think it will work and a set of numbers, a budget an operating budget, a project budget and demonstrate that it all makes sense.
Depending then on precisely what are you requirements, you will review the three potential securities regulations that apply – Regulations D, CF, and A+ – and will be advised which probably makes the most sense for you.  Once you have decided which format to go with, you will be guided through the preparation of a disclosure document or an offering packet.  This typically involves a restatement of what the deal looks like and includes how you are going to pay investors back, how investors are going to make a return, a review of market comparables that make sense… Basically everything a bank would ask for.
What sets SmallChange apart from any other platform is that no other funding portal offers Reg D and Reg A+ offerings also but Eve went about structuring SmallChange to be able to offer all three.  Once you get into the weeds, so to speak, of presenting your deal online via SmallChange, you will see that the use of what can only be described as truly plain English.  Eve is particularly fond of this aspect of disclosure.  She likes rules that are meant for the lesser sophisticated investors and that is what she has built her platform around.
Challenges
There are many more people out there who are not even aware of the possibility that they can invest in these incredible deals; not even aware that they are permitted to invest. This is hardly surprising since 97 percent of the population was indeed not able to invest in this way until the middle of 2016. The biggest challenge SmallChange faces – and other similar sites – is probably getting enough eyes on them so that they can grow quickly enough and offer enough opportunities to people.
One compounding challenge to resolving this is that Regulation Crowdfunding has very strict advertising rules, whereas the other regulations do not. Of course, you can never promise anything in securities any way because there is always a risk to invest so you have to be careful about your language no matter what.  But Regulation Crowdfunding is especially strict because the intention is that everyone sees the same information at the same time on the Web site and so how that information is disseminated is very strictly governed.
SmallChange Deal Flow
SmallChange is very active in places where there is a lot of change going on. Like Los Angeles where there are some really big zoning changes and similarly in the Hudson River Valley where there is a lot of movement out of New York and Brooklyn.  They are also finding activity in Newark and New Orleans where there are a lot of creative architects.   [Of course, SmallChange does not limit it range to just these areas so if you have a deal that you think might make sense, contact me a the link at the top of this page and I will gladly provide feedback for you on your deal]
SmallChange makes money in Reg CF offerings by charging transaction fees to the developer, typically a 5 percent commission on whatever the site raises.  [Again, if you process the deal through the NREForum we can probably assist you get a decent discount on this fee].  Although the site can accept it in lieu of the fee, it has not yet been given common stock or anything in exchange for funds, though this may change. In Regulation D because the site is not a broker dealer it is not permitted to charge a commission so instead negotiates a fee with the developer on a case by case basis.
Pursuant to Regulation Crowdfunding rules, SmallChange is not permitted to talk directly to unaccredited investors although communication is permitted through social media.  But the unaccredited investor is a group of people who is ready and waiting for this kind of investment opportunity. It is very different talking to an accredited investor who is going to invest a larger amount of money. That kind of investor is used to investing in a more traditional way and, in some ways, the those conversations are actually more difficult because for them it is a very new way to invest and they use to conversations around investment that may not happen in the same way in crowdfunding.
The Unaccredited Investor
Eve is finding that unaccredited investors are coming to crowdfunding real estate joyfully. SmallChange's first investor, Bill Bedell wanted to be the first one to invest in a Regulation Crowdfunding deal. [listen in to the next podcast episode to hear Bill talk of his motivations for investing].  The accredited investor is often motivated by things that go far beyond money and, so far, it appears that there are geographical variations in how the accredited versus the unaccredited investor thinks and acts.  Talking first of the Regulation D deals, the accredited investor only.  There it seems that think the tendency is more to invest in your own city, whereas the unaccredited investor looks to influence change in neighborhoods anywhere that they can. In fact, the first Regulation Crowdfunding offering, which was in New Orleans, attracted investors from all across the country. It was a first-time opportunity for people to invest in real estate and they were interested in the project and they invested from places as from Indianapolis to Florida, from Boston to Los Angeles.
The Change Index
If you want to raise a million dollars from both accredited and unaccredited investors it might make sense to do a side by side Reg CF and a Reg D offering, which SmallChange is alone set up to do.  The smaller deals are very difficult to make money but, says Eve, 'boy, I still want to keep doing them because some of those deals just matter so much.'  Whether it is a tiny deal, or a larger one, as long as it is consistent with the change index, SmallChange will take a look.  The Index is essentially a tool that is used to measure the impact that a project can make on a community.
It looks at features such as the walk score where the project is located or is it close to transit or is there a business corridor nearby. If there is a sustainability play, are they using green building practices or is it in a principal city or is it close to a park or plaza.  If it is a residential project does it activate the street with a porch or low chair and table; are jobs created?  Is it an underserved community.
Eve is frustrated with the real estate crowdfunding industry because she sees that they really use buildings as a way to make money and do not think about buildings as a way to make places better. She believes the industry can do both and that because of crowdfunding and the influence that investors will have on the motivations of developers, in 10 years from now people will have started to build investment portfolios out of businesses and buildings about which they care and not solely for the money.
Subscribe now on any of these platforms so you don't miss a single episode.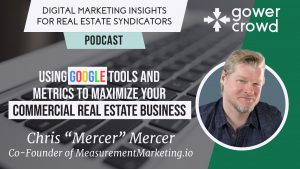 Last Updated on September 15, 2021 by Dr. Adam Gower Chris Mercer, Co-Founder of MeasurementMarketing.io Using Google Tools and Metrics to Maximize Your Commercial Real Estate Business NEW BOOK BY…
READ MORE >