Need More Money to Finance Your Real Estate Projects?
Learn how to find more investors, raise more money, and finance your real estate projects online.
006 Healthcare Uncertainty Bad for Real Estate
Healthcare: Issues for Real Estate
One of the policy issues that dominate Washington's agenda is healthcare.   It is an issue that has been a high priority for prior administrations, and continues to remain a high priority for the current administration.  But the pendulum like swings in policy from the pre-Obama era, through the Affordable Care Act, to the Trump administration's 'repeal and replace' discourse, causes considerable uncertainty not just now, but as real estate investors attempt to predict the future.  Returning guest U. of Berkeley's Prof. Christopher Palmer diagnoses the symptoms...
Uncertainty in Policy is Destabilizing for Real Estate
Uncertainty in healthcare policy and the direction it is headed is not good for planning developments, like hospitals, for example, because not knowing how patients are going to be reimbursed for their medical expenses creates doubts as to how development investments will be returned.  The healthcare industry does have some immunity to shifting policy changes because it takes a long term perspective, and because demographic trends that point to a large aging baby-boom population will have some flattening effect on the impact of policy changes.
That said, while it is true that as the population ages we are going to see greater spending in healthcare related real estate, demographics are not a panacea for overriding unpredictability in healthcare.  Insurance is how most people plan to pay for their healthcare, and the ACA  provided a road-map that defined how people were going to be able to finance their healthcare expenditures.  With that being rolled back, once again there is considerable uncertainty across the industry.  Which is the anomaly: the Affordable Care Act, or what is the current plan being debated in Washington the anomaly?
Opportunities may arise from identifying those properties that are now seemingly distressed healthcare assets, and acquiring them with the view that in five years time, with the next administration, something that looks more like the ACA will again be the government's mandate.
Leaders of The Crowd
Conversations with Crowdfunding Visionaries and How Real Estate Stole the Show
Discover how laws that gave us crowdfunding were solely meant to finance small companies and yet inadvertently opened the doors to allow you to invest in real estate like never before.
Read the book and listen to the actual conversations.
Senior Housing – Strong Demographics, but How Will Seniors Pay for it?
Senior housing has been, and continues to be a very successful space in the real estate industry.  The aging of the baby boomer generation reaching retirement age and increasingly likely to need senior housing facilities seems, on its face, to be a positive tailwind.  However, one thing to watch for is the impact the retirement savings crisis in the United States, and of underfunded pension obligations on long term viability of the senior housing market.  Institutions and municipalities have underfunded pension plans.  Alone this is a looming problem, but combined with an atrociously low savings rate in the United States, the prognosis for how this cohort of aging people is going to retire is not good, let alone how they are going to afford medical expenses, and the costly option of entering senior housing facilities to live out their days.  This certainly mitigates the likelihood that senior housing is going to be a sure thing as far as providing certainty on the investment horizon.
7 Steps to Raising Equity Online
Summary
There are two takeaways from today's podcast.  The first is that the current uncertainty about the healthcare industry creates difficulties in making medium and long term predictions upon which to base underwriting assumptions.  However, if you have a firm opinion about whether the Affordable Care Act was a healthcare industry anomaly, or that the Trump administration's repeal and replace policy is the anomaly, you may be able to find opportunities trading with those on the other side of that debate.   The second pertains to the senior housing sector which, though enjoying some tailwinds due to aging population demographics, may yet experience turbulence as its target market finds it increasingly difficult to pay for the services on offer.
Subscribe now on any of these platforms so you don't miss a single episode.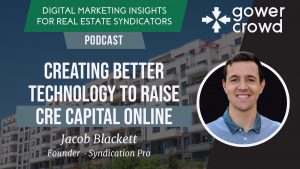 Last Updated on September 15, 2021 by Dr. Adam Gower Jacob Blackett, Syndication Pro Creating Better Technology to Raise CRE Capital Online The Investor Acquisition System: Find More Investors Raise…
READ MORE >
Last Updated on September 15, 2021 by Dr. Adam Gower Carter Malloy, AcreTrader How Investors Can Make Money in Farmland Through Crowdfunding The Investor Acquisition System: Find More Investors Raise…
READ MORE >